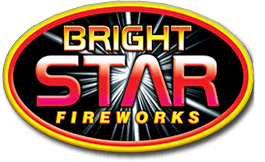 Bright Star Fireworks products
Bright Star Fireworks were established in 1992 and have gone on to develop into the largest supplier of fireworks in the UK. The business aim to create new, spectacular fireworks every year and introduce people to new visual experiences. The company are based in North Yorkshire and have a comprehensive showroom stocked with products. With some of the largest storage facilities available, Bright Star Fireworks aim to deliver for those special occasions such as Bonfire Night and New Years Ever.
Available at Splash & Relax are a large amount of Bright Star Fireworks. Available are fountains, display packs, multishot barrages, fountains, rockets, selection boxes, sparklers, roman candles, mines, barrage packs and wheels. As well, we have various Bright Star Fireworks for different displays and levels. For instance, a quieter garden display would only require a selection of rockets. If you were to have a pub, looking to entertain 100+ people, a Display Pack from Bright Star Fireworks would be best!