6ft Folding Pool Table by BCE
* We aim to deliver by our estimated delivery dates, however they can't be guaranteed.
Top reasons to buy
Light wood surround and stylish blue playing surface
Folds for easy storage when not in use
Castor wheels for ease of movement
Includes table tennis top
Made by BCE
Free Delivery!
Helpful Telephone Support
WITH FREE 6FT TABLE TENNIS TOP WORTH £89,99 WHILST STOCKS LAST. This 6ft pool table features ideal vertical folding to allow easy storage in a cupboard when not in use. Perfect for those who have the space for a large scale pool table, but equally want the table stored away for that extra living space once in a while.
FREE DELIVERY ON THIS ITEM (excluding Highland & Islands - contact us for a quote).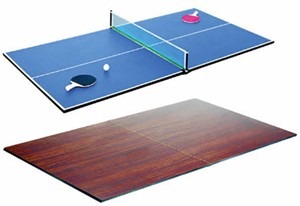 ×
If you have a question about this product, please use the area below, click 'SUBMIT' when you're done and we'll get back to you ASAP!
×
Limted time offer
Use code "SplashC1" to get 5% off* your basket.
This product will be .
* Discount only applies to first time customers. Code expires 31 Mar 2020.