Free same day dispatch delivery
Hydro Pro ABS Swimming Pool Heat Pump Type P20/32- 19.5kW
Phase:
Single Phase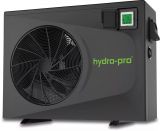 Three Phase
Top reasons to buy
×
If you have a question about this product, please use the area below, click 'SUBMIT' when you're done and we'll get back to you ASAP!


Product Detail
The Hydro Pro Swimming Pool Heat Pumps are extremely efficient and economical and a very environmentally friendly way of heating your pool. Choose from a wide range of sizes:- 5.8kW; 8.3kW; 11.5kW; 13.5kW; 19.5kW; 23.1kW; and 25.8kW.
Hydro-Pro Swimming Pool Heat Pumps are available in three styles:-
The Hydro-S range- ideal for above ground pools and heats pools for the Summer Season only
The Hydro-Pro range- will heat in-ground and above ground pools during an extended Summer Season, and operates down to -5°C.
The Hydro-Pro Inverter range- will work in lower temperatures down to -10°C, for an all year round solution

HYDRO PRO HEAT PUMP FEATURES:

High efficiency coefficient up to 6.4
All-seasons model operates down to -5°C air temperature
All functions are microprocessor controlled
Automatic defrost protection
Compact for easy installation
Quiet running with low sound rotary compressor
Low noise fan
R32 gas for an environmentally friendly operation
Titanium heat exchanger, resistant to salt and chlorine
Easy digital temperature control with LCD display
Black ABS case

The energy is collected from the air outside and transferred to the pool water using the same technology that is used in air-conditioning units and fridges. For each single kW used by the Eco heat pump, between 5 and 6kW are returned to the pool as heat.
Read the information in the instruction manual before connecting. It is compulsory that a qualified electrical technician must check or install the wiring. Connection made by unprofessional people may cause injury even death. The manufacturer shall not be responsible for the consequences of connection made by unqualified people or disregarding the manual.
Warranty
For the first 2 years both parts and labour are warranted on site. Call out and parts charges will need to be paid by you if found to be a problem with setup and not a faulty item. Units cannot be returned for a refund; only swapped if the manufacturer advises that the item is not repairable.
Specification
Heating power input: 2.87kW
Heating capacity (A27/W27): 19.5kW
Heating capacity (A15/W25): 13.8kW
Maximum volume (good insulation): 70m³
Running current: 12.8A
Coefficient (C.O.P.) at A27/W27: 6.3
Coefficient (C.O.P.) at A15/W25: 4.81
Compressor: Rotary
Refrigerant: R32
Fan quantity: 1
Fan power input: 150W
Fan rotate speed: 850RPM
Fan direction: Horizontal
Noise level (10 metres): 45dB(A)
Water connection: 50mm
Nominal water flow: 6.8m/h³
Dimensions (L x W x H): 112 x 47 x 87cm
Unit shipping dimensions (L x W x H): 122 x 48 x 88cm
Net weight: 100kg
Shipping weight: 110kg
Slow fuse current: 35A
Above Ground Pool Sizing (guideline only, based on 4 ft depth)
| | | | |
| --- | --- | --- | --- |
| Pool Size | Gallons | Litres | Model |
| 10' Diameter | 1000 | 3,800 | Hydro Pro 6 |
| 12' Diameter | 1800 | 6,700 | Hydro Pro 6 |
| 15' Diameter | 4400 | 20,000 | Hydro Pro 8 |
| 18' Diameter | 6350 | 29,000 | Hydro Pro 12 |
| 19' x 12' | 4900 | 23,000 | Hydro Pro 12 |
| 23' x 12' | 5700 | 26,000 | Hydro Pro 14 |

In-Ground Pool Sizing (guideline only, based on 4 ft depth)
| | | | |
| --- | --- | --- | --- |
| Pool Size | Gallons | Litres | Model |
| 20' x 10' | 5610 | 26,000 | Hydro Pro 10 |
| 24' x 12' | 7000 | 30,000 | Hydro Pro 14 |
| 28' x 14' | 9000 | 35,000 | Hydro Pro 20 |
Why choose a heat pump?
Simply because it's inexpensive - to buy - to run - to install.
Realistically, in this country, all swimming pools whether above or in-ground, need heating to obtain the maximum use from the summer season. Having a pool in your garden may be aesthetically pleasing to the eye but unless the pool feels warm and inviting, the pool will not be used to its full potential. By investing in a Heat Pump, this can change!
Generally, the main heating systems available for swimming pools are Gas (LPG or Propane), Electric or Oil heaters. Some of these heaters can be beneficial from a cost point of view but tend to lose their appeal when it comes to installation costs.
A heat pump does not generate heat, it simply captures it and moves it from air to water thus, providing an efficient and environmentally friendly system for heating your swimming pool!
How Does A Heat Pump Work?
A Swimming Pool Heat Pump is a super efficient way of heating your Swimming Pool as it uses advanced refrigeration technology to capture the heat in the outside air and transfer it to your swimming pool water. It works in fact like a fridge in reverse. For every unit of electricity that you put in to run the compressor you will get approx. 4.6 units of heat out of the heat pump- so nearly 80% of the energy is FREE!
To heat your pool correctly you will need to run your filtration for a minimum of 12 hours a day throughout the season and use a solar cover when the pool is not in use.


Product Specification
| | | | |
| --- | --- | --- | --- |
| Brand: | Hydro Pro | Range: | ABS Heat Pump |
| Box Length: | 1210 mm | Box Height: | 510 mm |
| Box Width: | 880 mm | Code: | 7024528 |
| Heating Output: | 19.5 kW | Phase: | Single Phase |


People also bought


You May Also Like


Reviews