×
Coronavirus (COVID-19)
We still have stock & we are delivering to our customers safely. Delivery times however are being affected by COVID-19, click here to find out more information.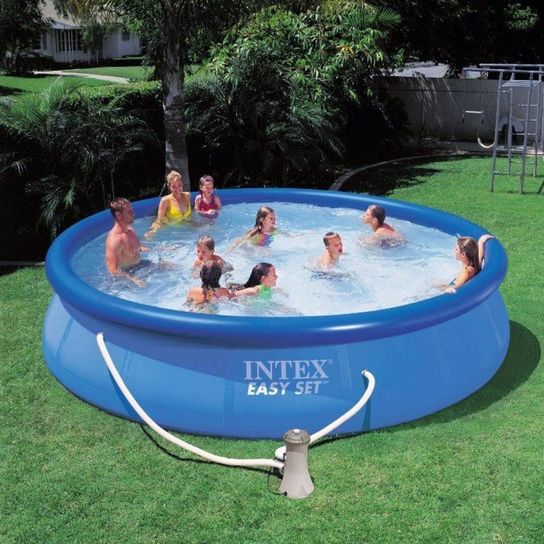 Show all images ▼
Hide images ▲
Easy Set Inflatable Pool Package - 15ft x 48in by Intex

* We aim to deliver by our estimated delivery dates, however they can't be guaranteed.
Top reasons to buy
Pool Diameter: 15ft
Pool Depth: 48in
Includes: Winter Debris Cover, Ladder, Pump, Ground Cloth
Made by Intex Pools
Free Delivery!

Are you after a mid-size inflatable pool package with no hidden surprises? Well the Intex Easy Set Inflatable Pool Package at 15ft x 48" leaves you wanting for very little, with a pool ladder, filter pump, groundsheet, winter debris cover, and installation DVD all being included in with the price. As it is an Easy Set pool the included installation DVD can see you starting to fill the pool up in around ten minutes after Splash and Relax's free delivery service has dropped it off. No tools are needed to install it, all you need is a suitable piece of firm level ground and you are well on your way to setting it up.
×
If you have a question about this product, please use the area below, click 'SUBMIT' when you're done and we'll get back to you ASAP!
×
Limted time offer
Use code "SPLASH-NOW" to get 5% off* your basket.
This product will be .
* Discount only applies to first time customers. Code expires 30th April 2020.