×
Coronavirus (COVID-19)
We still have stock & we are delivering to our customers safely. Delivery times however are being affected by COVID-19, click here to find out more information.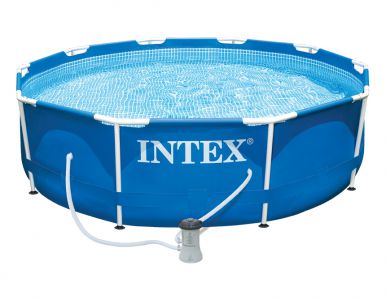 Intex Metal Frame Pool 10ft x 30" - 28202

* We aim to deliver by our estimated delivery dates, however they can't be guaranteed.
Top reasons to buy
Easy to set up, semi-rigid above ground pool
Triple strength sidewalls supported by rust resistant galvanised steel frames
Free installation guide DVD and repair patch
Pool Diameter: 10ft
Pool Depth: 30in
Includes: Pump
Made by Intex Pools

NEW 2020 SEASON STOCK DUE EARLY APRIL SO CALL US NOW TO RESERVE YOURS!

If you like the simplicity of a metal framed pool but think they only come in large sizes then think again. This Intex Metal Frame Pool at 10 ft by 30 inch is made by the Worlds leading producer of above ground pools. This smaller model offers all the benefits that their larger models do, and it is built to the same exacting standards. This is a great sized metal frame round pool, which is ideal for cooling down in on hot days, or for smaller children to swim in. It even comes with a mains powered water filter included.
×
If you have a question about this product, please use the area below, click 'SUBMIT' when you're done and we'll get back to you ASAP!


Product Detail
Intex Metal Frame Pool 10ft x 30"- FREE DELIVERY!!
Dimensions:
Frame Diameter: 10ft (305cm)
Overall Height: 30" (76cm)
Recommended Water Depth: 24" (61cm)

Water capacity at 90% full : 1,185 gallons (4.5m3)

Intex's beautiful Metal Frame Pools- Classic Beauty at a Great Value Price.

Nobody builds a metal frame pool like Intex! With their SUPER-TOUGH liners and high quality, incredibly strong metal frames, you will enjoy a pool that is easy to assemble, beautiful to look at and certain to provide years of fun!

The Intex Metal Frame Pools offer an easy to set up, semi-rigid above ground pool. They are made from reinforced PVC, supported by rust resistant galvanised steel frames. With the added protective finish of these galvanised steel frames these Frame Pools can now be manufactured in even larger sizes, such as the 24ft diameter pool with its 52" depth, which is capable of supporting over 12,400 gallons (47,000 litres) of water.

Supplied in several sizes to suit all gardens:- 10' & 12' diameter pool with a depth of 30''; 15' diameter with a depth of 36", 42'' & 48"; and 18' x 48"; and 24' diameter with a depth of 52''.

The SUPER-TOUGH sidewalls are triple strength- made with three separate layers of material for extra strength and durability. Two outer layers of heavy-gauge PVC are laminated to an inner layer of polyester mesh for extra reinforcement.

A separate laminated band provides additional wall support. In addition a reinforced polypropylene rope wraps around the bottom of the pool liner to keep the legs firmly in position. This metal frame pool also has a convenient drain plug for easy draining. The drain connects easily to a garden hose so the water can be drained away from the pool area.

This 10ft x 30" Metal Frame POOL comes with FREE:
Intex 330 gallon/hour Filter Pump
Installation guide DVD
Repair Patch
An Optional Upgrade is the new Krystal Clear Deluxe Saltwater System. This allows pool owners to eliminate the costly and hazardous use of traditional chlorine. There's nothing like swimming in completely fresh, clean, crystal clear water! The pool's water is automatically converted into an effective algaecide by simply adding the recommended dosage of salt directly into the pool.

The Krystal Clear Deluxe Saltwater System includes a touch-sensitive control panel that allows pre-programmed operating hours, and also incorporates a keypad locking system to prevent accidental alterations. A flow-sensor system also alerts any adverse operating conditions and there is a self-cleaning titanium-coated electrolytic cell for continued performance.

A variety of heating options are available from the simple to use 3KW Intex heater to the high quality Elecro stainless steel heaters. A cost-effective solar panel kit is also available.
Please note; if opting for the Solar Heating Kit, this pool will require two panels for optimum effect.
If opting for the Intex Krystal Clear 2650 Gall/Hr Sand Filter Pump, you will additionally require two bags of Silica Sand.

Don't forget the chemical treatment kits and replacement cartridge filters, to extend the life of your pool water!

PLEASE NOTE: All filter pump units must be placed 2 metres away from the pool. We recommend that filtration is turned OFF when the pool is in operation. We recommend a smooth concrete slab as a suitable base- contact a reputable local builder for advice on local soil conditions. Failure to set up the pool on a flat, level compact ground could result in the pool's collapse or the possibility that a person lounging in the pool could be swept out. Do not lean, straddle or exert pressure on the inflatable top ring or top rim as injury or flooding could occur. Do not sit on, climb or straddle the sides of the pool.

WARRANTY: This product is covered by a manufacturer's warranty. The liner is covered for 3 months and the electrical components for 1 year. There is no warranty on inflatable parts or accessories. In the event of a product failure a claim can only be made through the relevant warranty line. Please note that the manufacturer will only replace the faulty component.

DELIVERY CHARGE: The cost of delivery is included to mainland UK.


Product Specification
Brand:

Intex Pools

Includes:
Pump

Box Length:
342.9 mm
Box Height:
876.3 mm
Box Width:
302.3 mm
Code:
28202BS
Pool Diameter:
10ft
Pool Depth:
30in
Shape:
Circular
Hexagonal



People also bought


You May Also Like
Accessories
Alternatives
Have You Remembered


Reviews
×
Limted time offer
Use code "SPLASH-NOW" to get 5% off* your basket.
This product will be .
* Discount only applies to first time customers. Code expires 30th April 2020.