Hurry,
only 2
left in stock!
White Coral Steel Pool - 5.5m x 1.2m

Depth: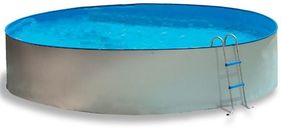 35in
47in
Top reasons to buy
Diameter: 18ft 1in
Depth: 47in
Includes: Ladder, Pump
Part of the Coral range by Splash & Relax
Free Delivery!
2022 NEW SEASON STOCK NOW IN


The new White Coral Steel Pools are available in a round or oval shape, and in a number of sizes. Supplied in a striking white colour, it can be left up permanently or can be dismantled and moved elsewhere or stored for the winter. The pools can also be used as an in-ground pool.

This pool is 5,5 metres in diameter and 1,2 metres deep. Supplied with a sand filter pump and ladder as standard.

More Details
Ask a Question

×
If you have a question about this product, please use the area below, click 'SUBMIT' when you're done and we'll get back to you ASAP!


Product Detail
FREE DELIVERY ON THIS POOL!!

The new White Coral Steel Pools are available in a round or oval shape, and in a number of sizes. Supplied in a striking white colour.

These pools are designed for real pool enthusiasts with an eye for value and beauty. The oval shape is ideal for playing volleyball and for lap swimmers!

With its SUPER-TOUGH blue liner and high quality, incredibly strong metal frame, you will enjoy a pool that is easy to assemble, beautiful to look at and certain to provide years of fun!

The pool is also supplied with a 1/4hp (4m3 per hour) pump with integral sand filter, delivering great flow rate and excellent filtration qualities.

Supplied in three sizes in the round shape, to suit most gardens:- 3.5m, 4.6m and 5.5m- all with a depth of 1.2m.

The oval shape is available in two sizes:- 5.5m x 3.66m; and 7.3m x 3.66m- both with a 1.2m depth.

The White Coral Steel Pool has steel frames and side panels and is an ideal project for the DIY'er. This range offers a significant cost advantage over many other steel pools on the market but are of comparable quality. The pool's steel structure is coated to resist corrosion.

The White Coral pool must be installed on flat level ground, ideally with a concrete base.

These pools are 1.2 metres deep (4 foot) so provide excellent swimming capabilities. They can be left up permanently or can be dismantled and moved elsewhere or stored for the winter. The pools can also be used as an in-ground pool.

This pool can easily be erected in one day!

These White Coral Steel Pool PACKAGES come with FREE:
Pump with sand filter
Installation guide
4 step Ladder

A variety of heating options are available from the high quality Elecro stainless steel heaters to a cost-effective solar panel kit.

Don't forget the chemical treatment kits and pool covers to extend the life of your pool water!

PLEASE NOTE: All filter pump units must be placed 2 metres away from the pool. We recommend that filtration is turned OFF when the pool is in operation. We recommend a smooth concrete slab as a suitable base- contact a reputable local builder for advice on local soil conditions. Failure to set up the pool on a flat, level compact ground could result in the pool's collapse or the possibility that a person lounging in the pool could be swept out. Do not lean, straddle or exert pressure on the top ring or top rim as injury or flooding could occur. Do not sit on, climb or straddle the sides of the pool.

WARRANTY: This product is covered by a manufacturer's warranty. The liner, frame and the electrical components are covered for 1 year. In the event of a product failure a claim can only be made through the relevant warranty line. Please note that the manufacturer will only replace the faulty component.

DELIVERY CHARGE: The cost of delivery is included with the exception of the following postcodes where there is a surcharge :

CA, EX, LA, LL, PL, SA, SY, TQ, TR - £19.99
DG, EH, FK, G, KA, KY, ML, PA1-PA19, TD - £21.99
AB, DD, PH1-8, PH14, Isle of Wight - £39.99
IV, KW, PA20+, PH, BT, Northern Ireland, Eire, Southern Ireland - £89.99
IM, GY, JE - £115



Product Specification
Brand:

Splash & Relax

Range:
Coral
Includes:
Ladder
Pump

Box Length:
1700 mm
Box Height:
1200 mm
Box Width:
600 mm
Diameter:
5500 mm
Code:
8886
Pool Diameter:
18ft 1in
Pool Depth:
47in
Shape:
Round

Finish:
White
Installation:
Above Ground, In-ground


People also bought


You May Also Like
Accessories
Alternatives
Have You Remembered


Reviews