×
During these testing times we have seen unprecedented demand for our pools, garden toys; indoor games and crafts. We and our delivery partners are working tirelessly to get orders processed and delivered as quickly as possible, albeit with reduced staffing at this time as a result we are experiencing 1-2 day delays on deliveries at present.
Please help us by emailing your enquiry to [email protected] rather than calling at this time. This will help us in dealing with the huge volume of enquiries more quickly. Our response time is currently 1-2 working days.
Buying a Lay-Z Spa Hot Tub
Lay-Z Spa are one of the UK's most popular brands of premium inflatable hot tubs and spas. Every single Lay-Z Spa hot tub is packed with innovative technology and unique features that will help you make the most of your new hot tub. Here at Splash & Relax, we are proud to offer a wide range of inflatable hot tubs and spas from Lay-Z Spa, including the popular Cancun, Miami, Milan, Vegas, and Paris spas.
Rapid Heating System
The pump supplied with many Lay-Z Spa hot tubs has a rapid heating system that will heat the water quickly to a comfortable 40°C. This tech even allows you to heat the water, run the massage system and filter the water simultaneously.
Tool Free Setup
Lay-Z Spa pride themselves on easy set-up, and that is why most of their hot tubs can be easily set up and inflated in less than five minutes with no tools needed.
Energy Efficient
Lay‑Z Spa is the most energy‑efficient inflatable hot tub brand, according to an independent study, and you could save up to £620 a year. Plus, all our hot tubs come with an inflatable lid and DuraPlus cover.
Freeze Shield
All new Lay-Z Spa hot tubs come with Freeze Shield tech as standard, meaning you do not have to worry about your water freezing in the colder months.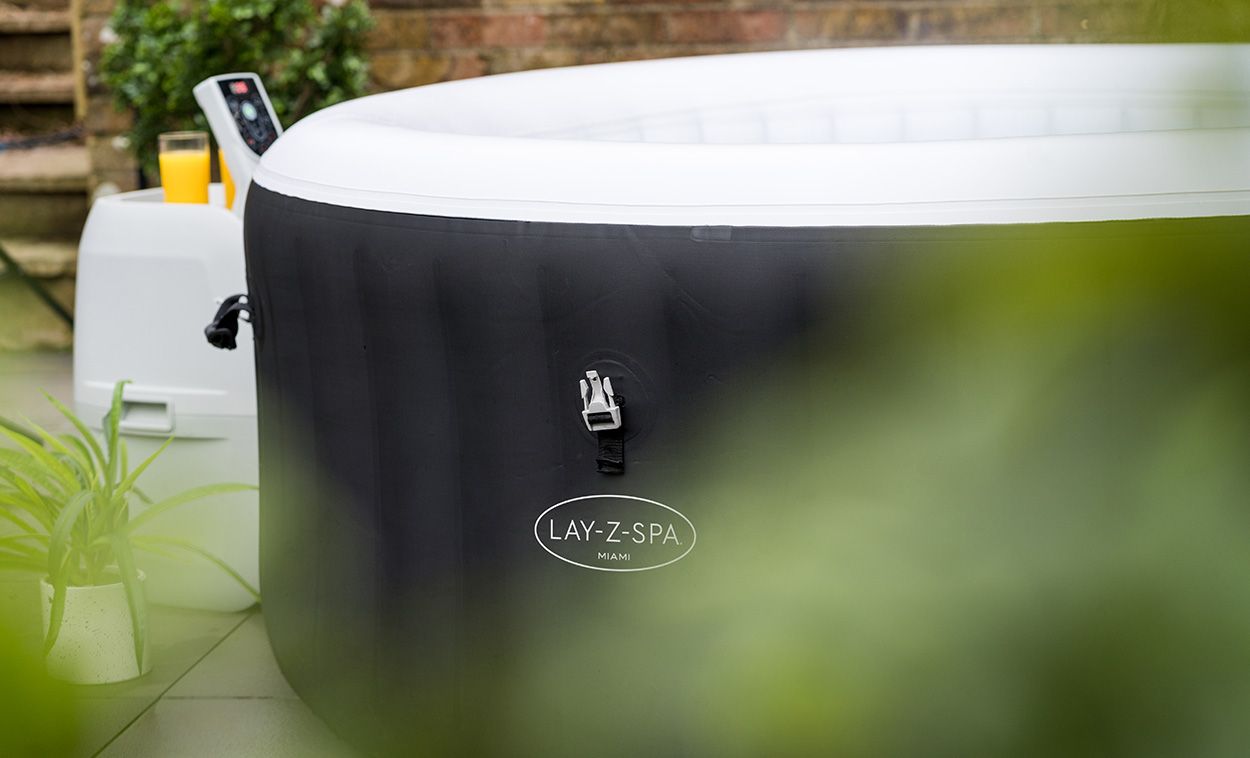 Miami Hot Tub
Lay-Z Spa's Miami hot tub is one of the most popular and affordable options available on the market. This hot tub has plenty of space for two to four people, and makes use of Lay-Z Spa's innovative AirJet massage system.
This hot tub is an affordable solution, that offers the perfect combination of relaxation, comfort, and versatility, all without compromising on price.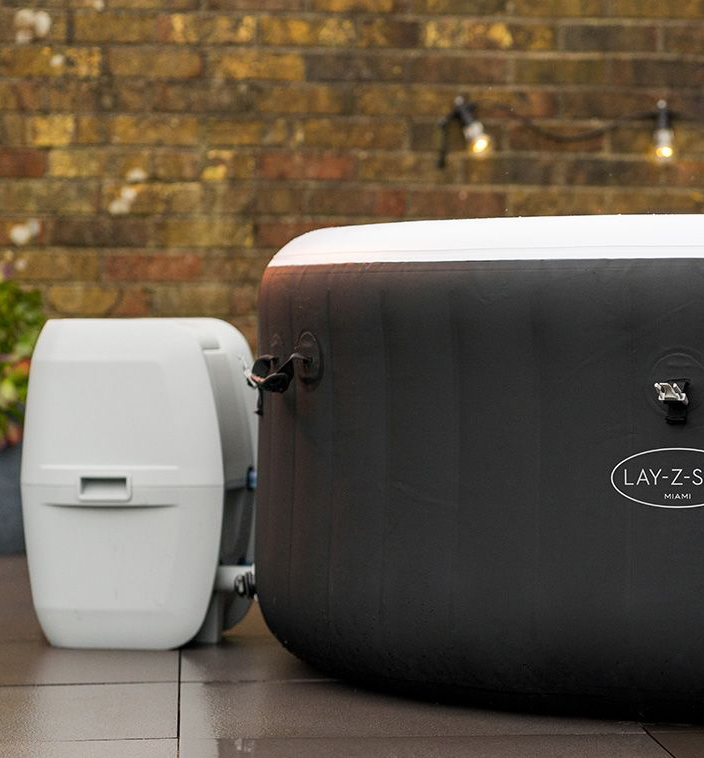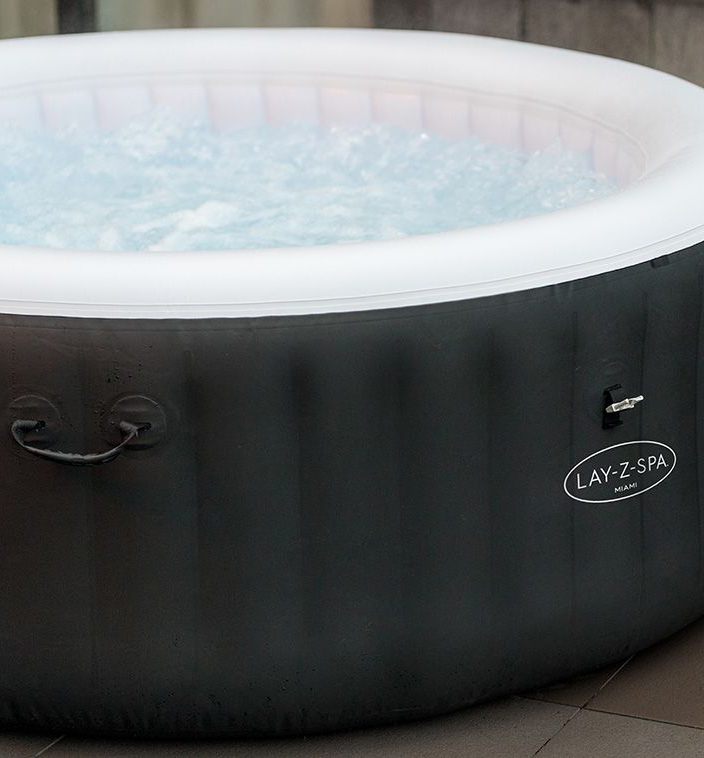 Everything You Need
The Miami hot tub is supplied with:
Filter cartridge
Inflatable lid
Chem Connect
AirJet Pump with Freeze Shield
Liner for Miami AirJet
Top Cover for Miami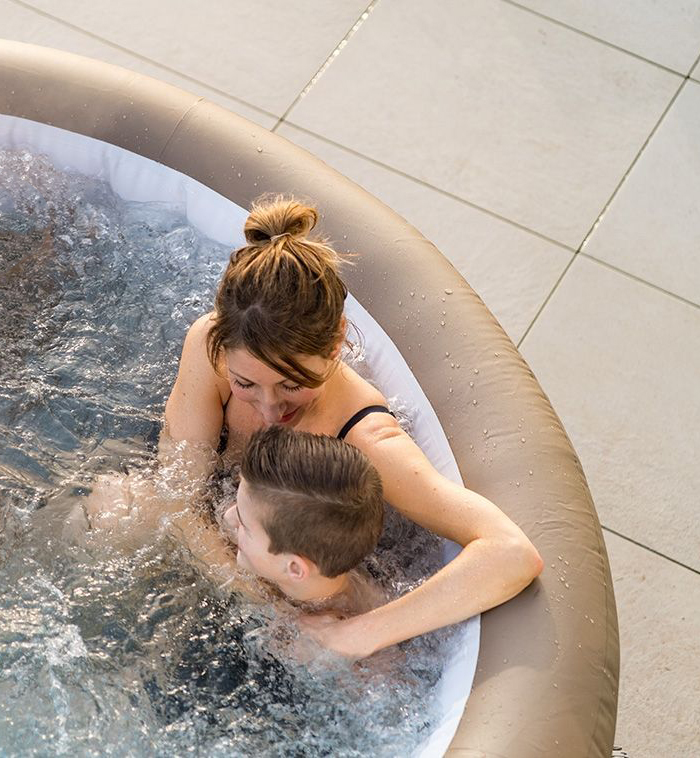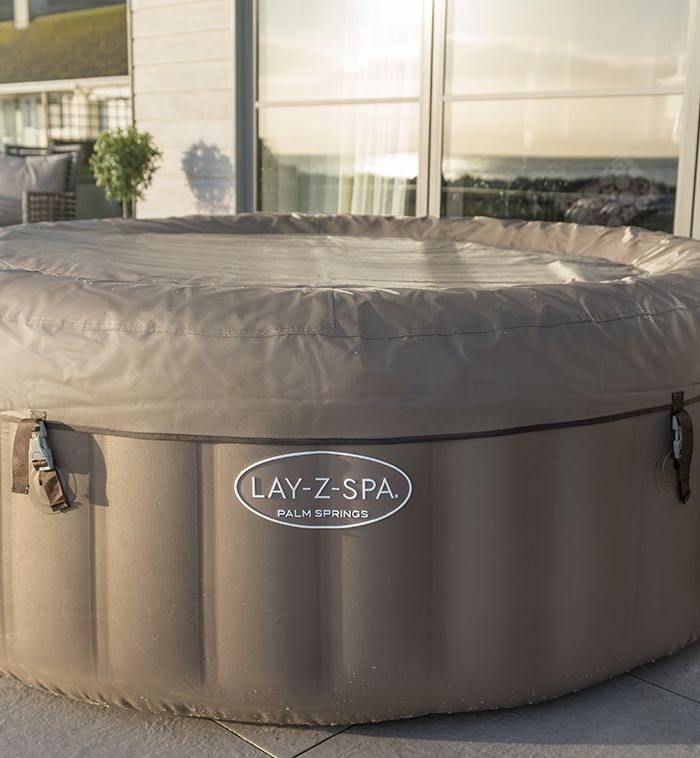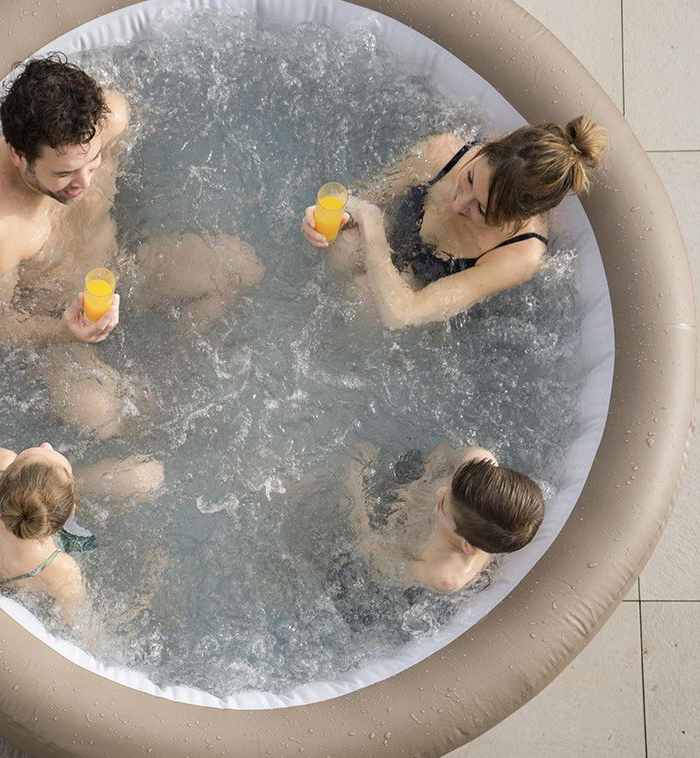 Palm Springs Hot Tub
The Palm Springs hot tub from Lay-Z Spa can hold up to six people in flawless comfort and style. This hot tub has a sturdy beam construction and comfy cushioning.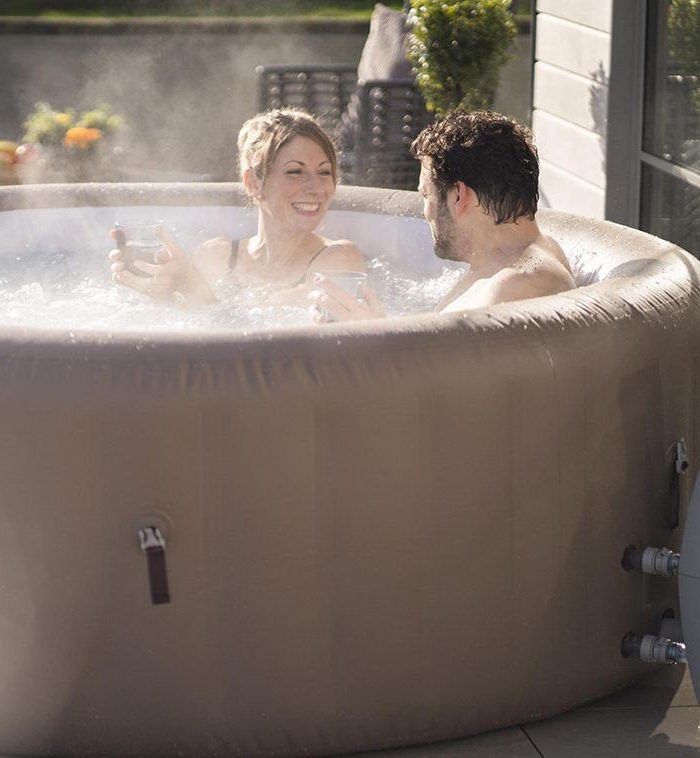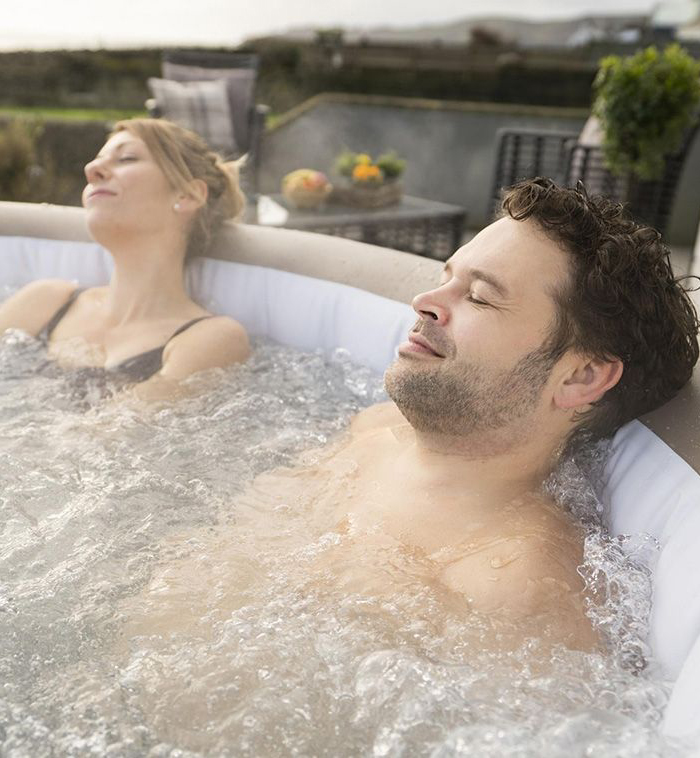 Everything You Need
The Palm Springs hot tub comes with:
Filter Cartridge
Chem Connect
Inflatable Lid
AirJet Pump with Freeze Shield
Liner
Top Cover
Vegas Hot Tub
The Lay-Z Spa Vegas hot tub offers space for the whole family at an affordable price. Up to six people can enjoy the luxurious experience that is the Vegas hot tub.
Lay-Z Spa's Vegas hot tub is super-quick to set up and fill, and is fitted with 140 AirJets around the perimeter of the hot tub's floor.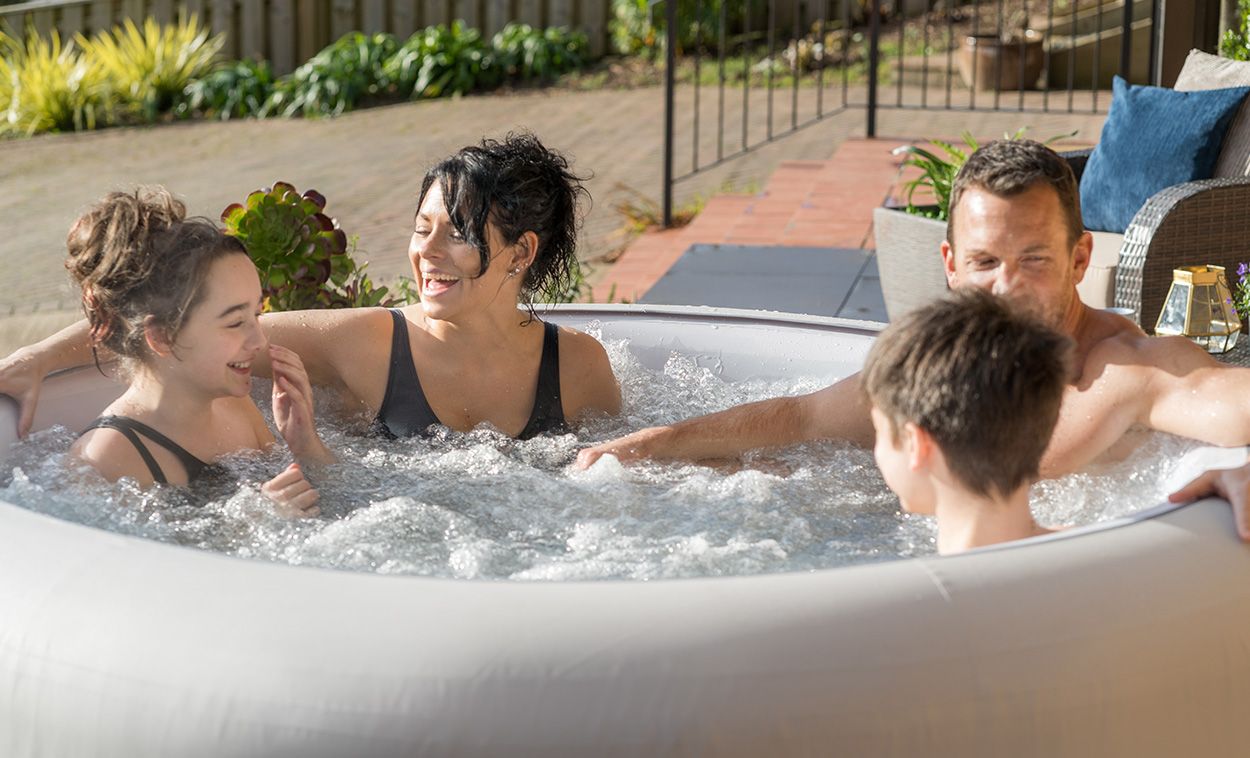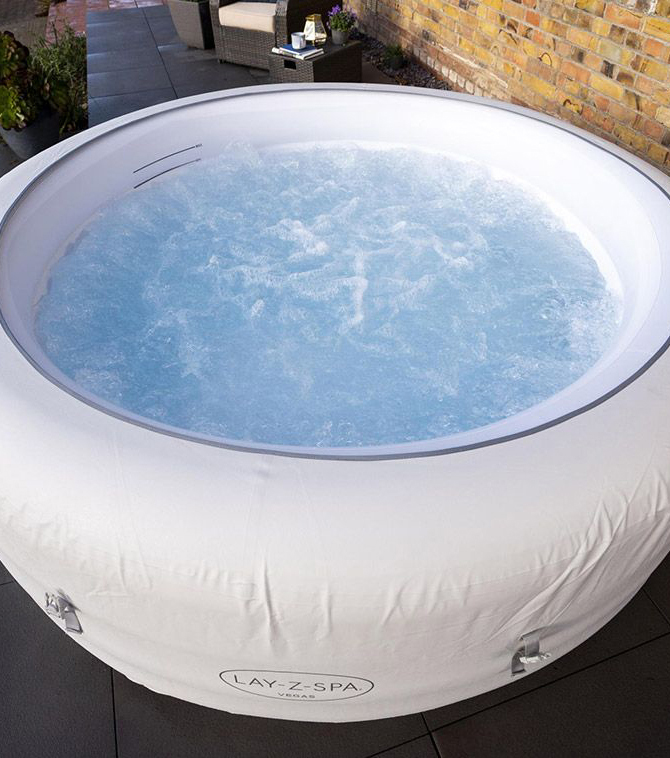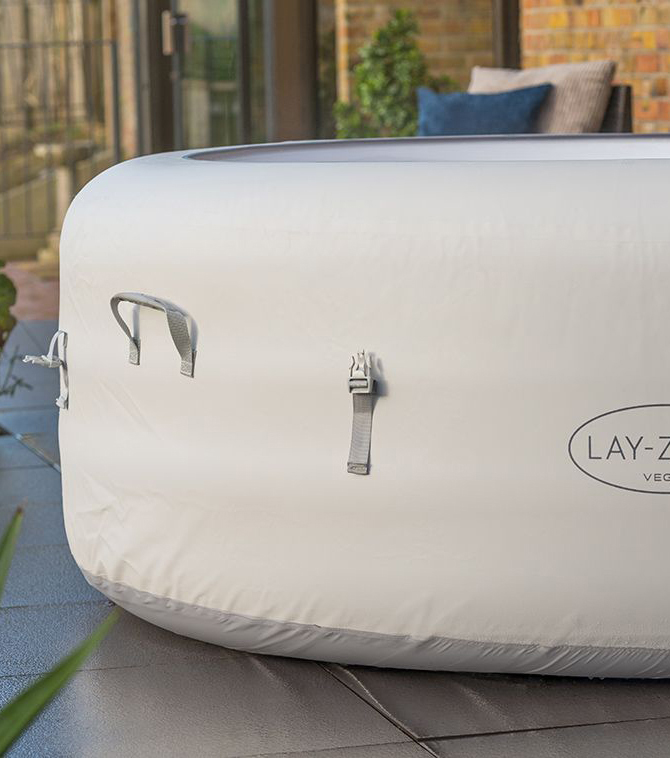 Everything You Need
The Vegas hot tub is supplied with:
Filter cartridge
Inflatable lid
Chem Connect
AirJet Pump with Freeze Shield
Hot Tub Liner
Top Cover
Exterior Liner Cover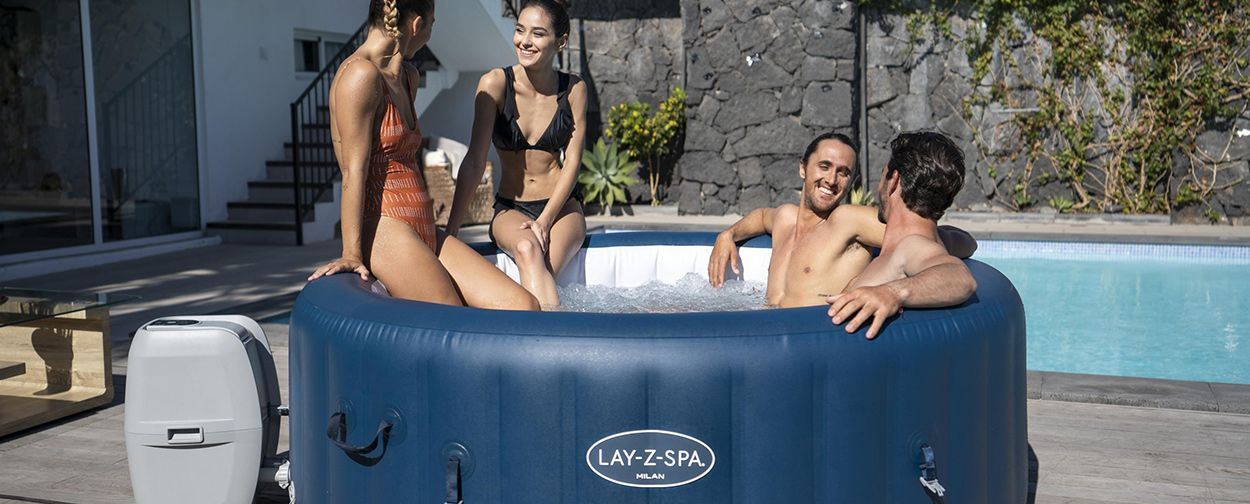 Milan Hot Tub
If you're looking for an innovative inflatable hot tub with a super-premium feel, you'll be right at home with the Lay-Z Spa Milan hot tub. This hot tub will comfortably seat six people, and is ideal for relaxing with the family or getting the party started. The Milan AirJet hot tub is packed full of great features, and includes 140 AirJet Plus jets around the spa.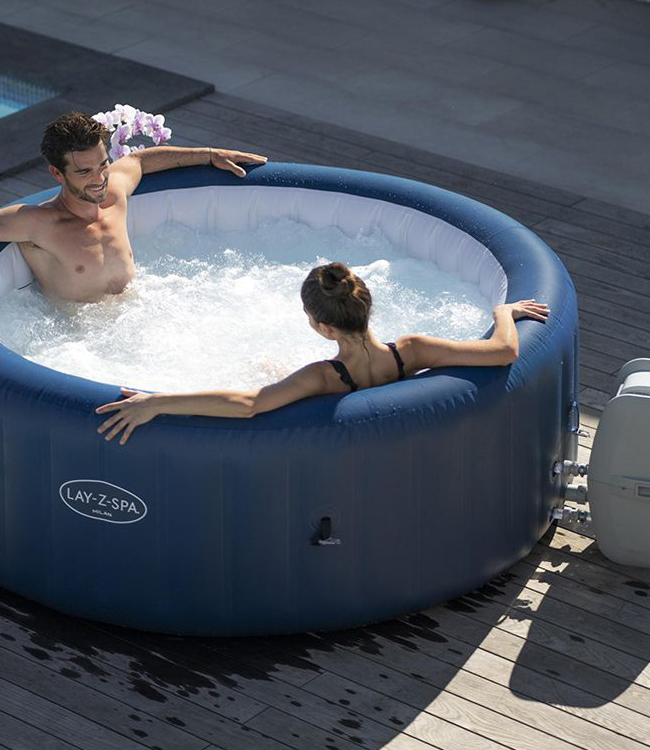 Modern Solutions
This tech-savvy hot tub can be fully controlled with the app, or through voice control. You can turn the hot tub on/off, set the temperature, turn on the timer, and even control the massage function remotely. The app is available on both Android and Apple devices, and the hot tub is compatible with Amazon Alexa and Google Assistant.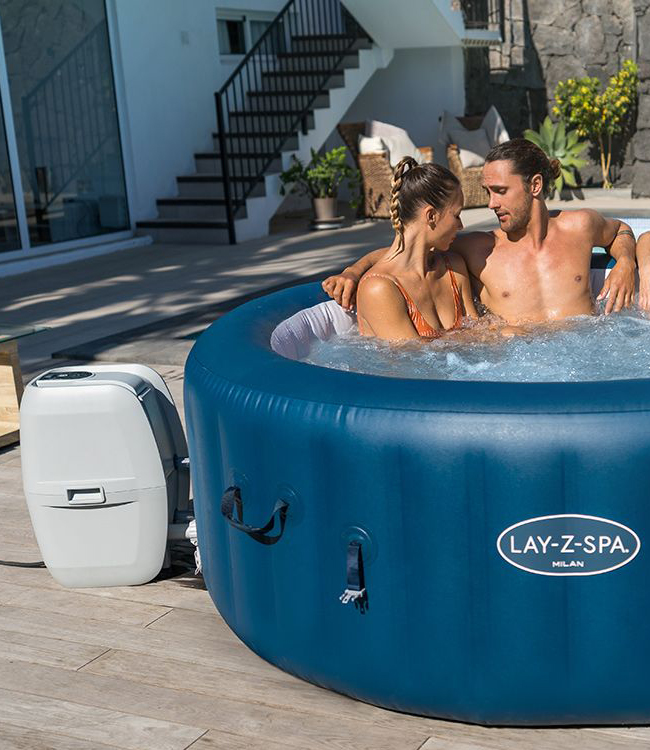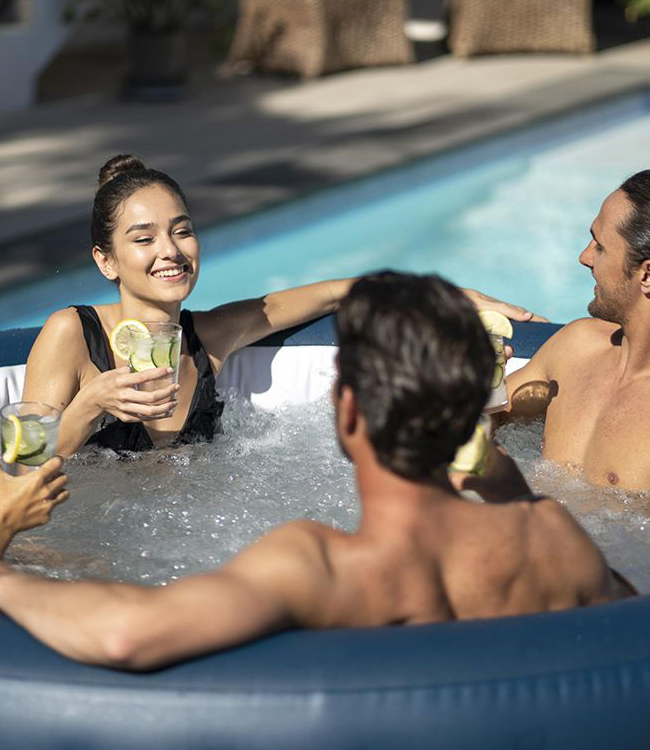 Everything You Need
The Milan hot tub comes with:
Filter Cartridge
Chem Connect
Inflatable Lid
WiFi Enabled AirJet Plus Pump
Top Cover
Liner