Our Top 5 Sledges To Rule The Hill This Winter!
We may not get snow often in the UK, but when we do, we sure like to make the most of it. A few centimetres of snow and school is out, which means it's normally time to hit the hills. Whilst our hills and banks become overcrowded during such winter conditions, it's important for many reasons that you or your child look the coolest by standing out with a top sledge. It's even more important to have a sledge that is safe and durable for such impulse use!
Snow Racer Sledge Toboggan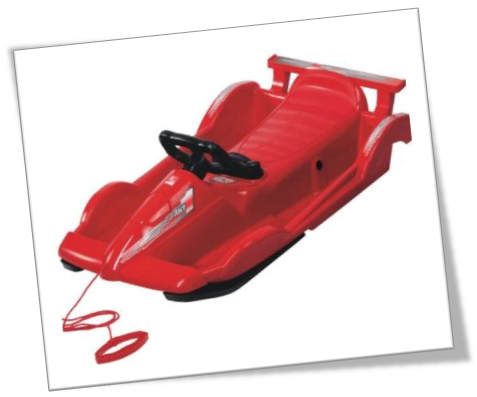 This plastic sledge is a great adult sledge, with much space and tools to help manoeuvre through the snow! With a steering wheel made out of robust steel for responsive direction control, it has excellent tracking stability of the skid - this provides ample safety. Coupled with a rigid breaking system, it's the safest race machine out there at its price. Available in Red, Blue or Black. Buy now £69.99.
Every kid needs one of these, a vehicle for pure fun in the snow this winter. Coming fit with a front handle for mobility and being made of high-quality HDPE, this sledge is both safe and comfortable. What's more, due to its size, it can be packed away in a suitcase for your winter holidays. There's a colour for everyone, available in red, blue, silver, green and pink! Buy now £4.99.
The Snow Globe Air Tube has become one of the most popular sledges for children in the past two seasons. With a super cool air tube inflatable design from popular manufacturer Snow Boogie, the kids love it and it picks up some awesome speed thanks its design. Built for the single ride, this inflatable sledge comes fit with two soft grip handles for stability and safety on the slopes. Buy now £11.99.
The Fantom X Sledge from Snow Boogie is one of the most affordable hi-tech sledges on the market today. You'll take your ability to look cool to another level with this futuristic black and orange chassis featuring a corrosion proof metal alloy frame. The sledge has two wide pivoting skis to glide you through the snow (and slow coaches!), with a nylon mesh seat and handlebar-style grip for comfort and control. Buy now £99.99.
Take a traditional look this winter with a wooden sledge classic in the Davos 90 Traditional Sledge Toboggan. Believe it or not, a wooden sledge is still one of the fastest forms of travel on snow. This particular model is made with full-length galvanised steel runners on its skids which provides superb grip on the snow. Aesthetically, it's one of a kind, made from solid beechwood slatted deck on a laminated frame. Buy now £69.99.