×
Coronavirus (COVID-19)
We still have stock & we are delivering to our customers safely. Delivery times however are being affected by COVID-19, click here to find out more information.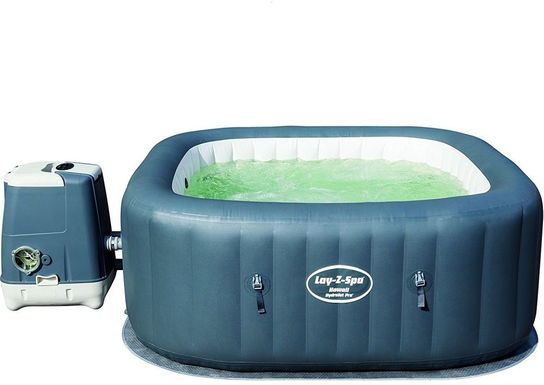 Show all images ▼
Hide images ▲
Lay-Z-Spa Hawaii HydroJet Pro Square Inflatable Portable Hot Tub Spa
* We aim to deliver by our estimated delivery dates, however they can't be guaranteed.
Top reasons to buy
8 HydroJets + 120 Airjets
Heats up to 40 degrees
No professional installation or tools needed
Comes with a free DVD detailing set-up and maintenance
Suitable for 4-6 people
Efficient power saving timer
Superior TriTech material and I-beam construction

NEW 2020 SEASON STOCK DUE END APRIL SO CALL NOW TO RESERVE YOURS.
HydroJet Massage System - 8 powerful flow-adjustable & directional water jet nozzles. AirJet Massage System - 120 air jets create thousands of rejuvenating bubbles. ClearSoft Water Treatment System. Rapid Heating System heats water up to a blissful 40 degrees Celsius. Timer Controlled Heating Setting - activate the heater to suit your schedule.
×
If you have a question about this product, please use the area below, click 'SUBMIT' when you're done and we'll get back to you ASAP!


Product Detail
The Lay-Z-Spa Hawaii HydroJet Pro is the top of the range spa from the UK's number one inflatable hot tub brand. The Hawaii is the only spa to combine both 8 powerful directional and flow-adjustable HydroJets with 120 invigorating AirJets for a deeply relaxing spa experience.

The Rapid Heating System heats the spa water up to a blissful 40 degrees Celsius. The Hawaii's no maintenance ClearSoft Water Softening Treatment tackles hard water in your spa- no more spa staining or skin irritation!

The Lay-Z-Spa Hawaii HydroJet Pro's leatheroid and almost puncture resistant exterior is constructed with TriTech 3 ply reinforced material, a polyester mesh core encased in two layers of PVC, for unprecedented strength and durability that is built to withstand the test of time. Requiring no professional installation or tools, the Hawaii inflates using its own pump and can be erected and filling up with water in just ten minutes!

CONTENTS:
1 x hot tub
DVD
Filter Cartridge
Bubble Mat
Chemical Floater
Heats Up to A Luxurious 40°C
The Hawaii HydroJet Pro features a Digital Control Panel to make operating your spa easy. Just set the temperature you desire (up to 40 degrees C / 104 degrees F) and activate the 8 directional and flow adjustable water jet nozzles + 120 soothing air jets for a relaxing spa experience. The new flip up control panel also features a timer controlled heating system & storage space for chemicals and accessories.

Large Capacity - Fits 4-6 people
Comfortably fitting 4-6 people the Lay-Z-Spa Hawaii Hydrojet Pro is a premium, inflatable hot tub. Whether it's a relaxing evening with the family or a BBQ with friends the Paris Hydrojet is sure to be the main event of the evening. Switch on the massage system and prepare to relax, it really is that simple.

Quick & Easy to Set Up in just 10 minutes
The Palm Springs HydroJet is quick and easy to set up. Most people have it set up and filling with water in around 10 minutes. It requires no professional installation or tools. Just a flat surface. You most likely won't need it, but just in case our Lay-Z-Spa includes a useful set up and maintenance DVD.

Relax & Unwind with 8 HydroJets + 120 Airjets
With the Lay-Z-Spa Hawaii HydroJet Pro, you get the best of both worlds. Engineered with a Lay-Z-Spa AirJet & HydroJet Massage System, you will experience the power of 8 powerful directional and flow-adjustable HydroJets combine with 120 invigorating AirJets to provide the ultimate soothing massage experience. Activate just the AirJets, just the HydroJets or both at the same time for an energising spa session.

TriTech & Sturdy I-Beam Construction
The Lay-Z-Spa Palm Springs' TriTech 3 ply walls are constructed to offer extra durability and strength with engineered puncture-resistant, I-Beam construction. This allows users to sit on the sides without the spa bending or buckling, making this product superior to others in its class.

New Power Saving Timer
The Hawaii Hydrojet Pro hot tub features a Power Saving Timer on the heating system which allows you to take control of your spa's water heater up to 48 hours in advance. With the new Power Saving Timer function, you can set the spa heater to activate up to 24 hours into the future, or set the duration of how long the heater is turned on for, up to 2 days in advance, using an hourly interval timing system. The new heating timer controls means you can come home to your Lay-Z-Spa already heated, ready to relax and unwind after work or weekend away.

Included Leatheroid Inflatable Cover and Extras
A leatheroid cover with inflatable lid, featuring double lock safety clips is included. An air pad floor mat is provided which sits underneath the spa providing cushioning and insulation. Also included is 1 x Chemical Floater, 2 x Filter Cartridges, 1 x Bubble Mat Floor Protector and 1 x Set Up & Maintenance DVD.

Free UK Support Team Service
Our dedicated Aftersales Service is a UK based team who are here to give free help to any Lay-Z-Spa owners. You should never have to call however 90% of inquiries are rectified over phone.


Product Specification
| | | | |
| --- | --- | --- | --- |
| Brand: | Lay Z Spa | Size: | 180cm x 180cm x 71cm (71" x 71'"x 28') |
| Box Length: | 970 mm | Box Height: | 710 mm |
| Box Width: | 700 mm | Code: | 54138 |
| Number of Seats: | 4-6 | Capacity: | 795 litres |
| Dry Weight: | 72 kg | Filled Weight: | 1235 kg |
| Total Jets: | 128 | Air Jets: | 120 |
| Luxury Swirl Jets: | 8 | Circulation Pump: | 50 watt |
| Blower: | 0.6 hp | Heater: | 2 kW |
| Cover: | Inflatable Jacket | AMPS: | 13 |
| Steps: | Optional | Chemical Kit: | Optional |
| Warranty: | 1 Year Parts Only | Finance Option: | no |
| Kerbside Delivery: | YES | Installation: | NO |
| Type: | Inflatable and Portable | | |


People also bought


You May Also Like


Reviews
T Buckley
Great Range of products, Great Price. Fast Delivery
×
Limted time offer
Use code "SPLASH-NOW" to get 5% off* your basket.
This product will be .
* Discount only applies to first time customers. Code expires 30th April 2020.