In stock
2.2kW Pool Heater For Above Ground Pools- 28684 by Intex
Top reasons to buy
×
If you have a question about this product, please use the area below, click 'SUBMIT' when you're done and we'll get back to you ASAP!


Product Detail
Compatible with Easy Set, Fast Set, Pro Frame and Metal Frame above ground pools up to 12ft diameter by 36 inches deep that use flexible hose & jubilee clips for connecting the pump to the pool.
- 2.2Kw output.
- 220-240 volt.
- Easy set-up and operation.
- Water level sensor.
- For new pools or for retro-fitting.
- Requires a filter pump with a flow rate of 500 - 2500 gallons/hour (1893 - 9464 litres/hour).
- Weight: 3.7kg.
Rapid heating system- approximately 0.5° C/hr (for 12' x 30" inflatable pool). Please note that this is only a guide as mains water temperature, heatloss, ambient air temperature etc will affect this.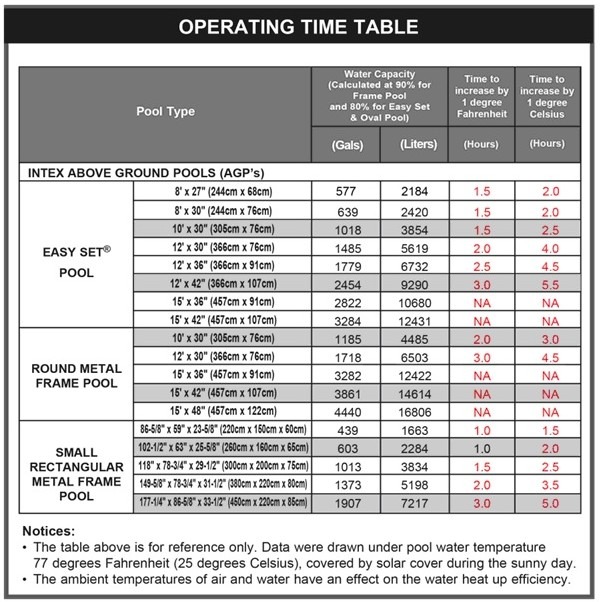 WARRANTY:

This item is covered for 1 year. In the event of a product failure a claim can only be made through the relevant warranty line. Please note that refunds are not available for alleged faulty goods- the manufacturer will only replace the faulty component part or item.
NOTE: this item is not suitable for use with extension leads.


Product Specification
| | | | |
| --- | --- | --- | --- |
| Brand: | Intex Pools | Alternative Product Codes: | (28684), 28684 |
| Box Length: | 250 mm | Box Height: | 500 mm |
| Box Width: | 250 mm | Code: | 28684BS |
| Heating Output: | 2.2 kW | | |


People also bought


You May Also Like


Reviews
Anonymous
Great for a small 12ft pool. You can't select the temperature but it turns itself off at 35 degrees
Matt James
Perfect, just as we expected, our pool is lovely now, Thanks.
Larissa
Good product, had no problems with the delivery either.