×
Coronavirus (COVID-19)
We still have stock & we are delivering to our customers safely. Delivery times however are being affected by COVID-19, click here to find out more information.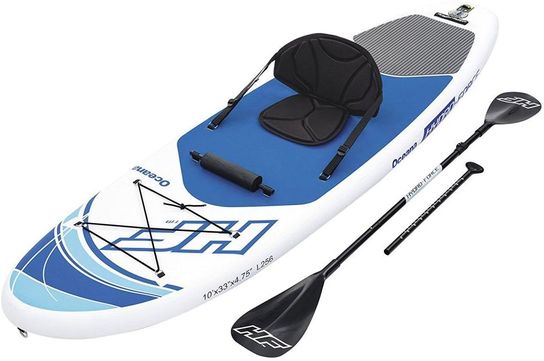 Show all images ▼
Hide images ▲

In stock
Hydro-Force 10' x 33" x 6"/3.05m x 84cm x 15cm Oceana
* We aim to deliver by our estimated delivery dates, however they can't be guaranteed.
Top reasons to buy
Made by Bestway
Free Delivery!
Helpful Telephone Support

NEW 2020 SEASON STOCK NOW AVAILABLE.
Stand Up Paddle Board. Light and stable SUP designs make Hydro-Force boards the ideal choice for every water condition. Oceana SUP comes with an optional seat making it the best choice for safe multifunctional driving in every water condition. Dimensions: 10ft x 33in x 6in. Useful travel bag makes it easy to transport your SUP and any accessories down to the water. A hand pump and easy inflation means you can be out on the water in no time. Comes with an adjustable paddle - suitable for everyone no matter what age or skill level. Made with robust drop stitch material making for a durable board that you can rely on.
×
If you have a question about this product, please use the area below, click 'SUBMIT' when you're done and we'll get back to you ASAP!
×
Limted time offer
Use code "SPLASH-NOW" to get 5% off* your basket.
This product will be .
* Discount only applies to first time customers. Code expires 30th April 2020.