×
Coronavirus (COVID-19)
We still have stock & we are delivering to our customers safely. Delivery times however are being affected by COVID-19, click here to find out more information.

Show all images ▼
Hide images ▲
Easy Set Inflatable Pool Package - 26166 - 15ft x 42in by Intex

Depth:
42in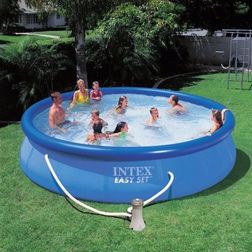 48in
Size:
15ft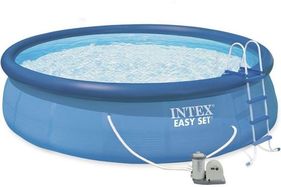 18ft
Top reasons to buy
×
If you have a question about this product, please use the area below, click 'SUBMIT' when you're done and we'll get back to you ASAP!


Product Detail
Intex Easy Set Pool Package15ft diameter x 42 inches deep
Dimensions:
Width: 15ft (457cm)
Height: 42" (107cm)
Outer Diameter: 13ft 9" (419cm)
Inner Diameter: 12ft 5" (378cm)
Recommended Water Depth: 36.5" (93cm)

Water capacity at 85% full : 3490 gallons (13.2m3)

Intex's beautiful Easy Set Pools will ensure that you enjoy seasons of garden family fun! Intex have brought years of enjoyment to millions of people around the world. Their high quality, easy to assemble pools are the best value on the market today. A pool can be installed ready for filling with water within 10 minutes.

The Easy Set pool is available in a number of sizes and depths. The 8', 10' and 12' pools are great for smaller children, small gardens, and for families making their first purchase. The 15' diameter Easy Set pool is available in 3 popular heights.

The Intex Easy Set Pool is manufactured using the highest quality PVC, and is several times stronger than the other makes available on the market due to the close-weave nylon webbing that is used for re-enforcement.

This Easy Set Pool PACKAGE comes with FREE:
Filter Pump
Installation guide DVD
Ladder
Ground Cloth
Winter Debris Cover
Repair Patch
An Optional Upgrade is the new Krystal Clear Deluxe Saltwater System. This allows pool owners to eliminate the costly and hazardous use of traditional chlorine. There's nothing like swimming in completely fresh, clean, crystal clear water! The pool's water is automatically converted into an effective algaecide by simply adding the recommended dosage of salt directly into the pool.

The Krystal Clear Deluxe Saltwater System includes a touch-sensitive control panel that allows pre-programmed operating hours, and also incorporates a keypad locking system to prevent accidental alterations. A flow-sensor system also alerts any adverse operating conditions and there is a self-cleaning titanium-coated electrolytic cell for continued performance.

A variety of heating options are available from the simple to use 3KW Intex heater to the high quality Elecro stainless steel heaters. A cost-effective solar panel kit is also available.
Please note; if opting for the Solar Heating Kit, this pool will require four panels for optimum effect.

Don't forget the chemical treatment kits and replacement cartridge filters, to extend the life of your pool water!

PLEASE NOTE: All filter pump units must be placed 2 metres away from the pool. We recommend that filtration is turned OFF when the pool is in operation. We recommend a smooth concrete slab as a suitable base- contact a reputable local builder for advice on local soil conditions. Failure to set up the pool on a flat, level compact ground could result in the pool's collapse or the possibility that a person lounging in the pool could be swept out. Do not lean, straddle or exert pressure on the inflatable top ring or top rim as injury or flooding could occur. Do not sit on, climb or straddle the sides of the pool.

WARRANTY: This product is covered by a manufacturer's warranty. The liner is covered for 3 months and the electrical components for 1 year. There is no warranty on inflatable parts or accessories. In the event of a product failure a claim can only be made through the relevant warranty line. Please note that the manufacturer will only replace the faulty component.


Product Specification
Brand:

Intex Pools

Range:
Easy Set
Includes:
Winter Debris Cover
Ladder
Pump
Ground Cloth

Box Length:
459.7 mm
Box Height:
1160.8 mm
Box Width:
398.8 mm
Code:
26166
Pool Diameter:
15ft
Pool Depth:
42in
Shape:
Round



People also bought


You May Also Like
Accessories
Alternatives
Have You Remembered


Reviews