×
Coronavirus (COVID-19)
We still have stock & we are delivering to our customers safely. Delivery times however are being affected by COVID-19, click here to find out more information.


Show all images ▼
Hide images ▲
Easy Set Inflatable Pool With Pump - 28142UK - 13ft x 33in by Intex

Depth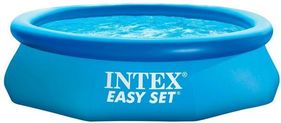 30in
33in
Top reasons to buy
Diameter: 13ft
Depth: 33in
Includes: Pump
Made by Intex Pools
Free Delivery!

NEW 2020 SEASON STOCK NOW SOLD OUT.
Intex are known for their range of Easy Set Pools, and Splash and Relax recommend the Intex Easy Set Inflatable Pool at 13ft x 33in as the ideal pool for those with young children, as it's big enough to be seen as a 'Proper' swimming pool by them, but small enough to look after and easily keep an eye on them. To keep the water nice and clean, Intex include a filter pump that attaches very simply with two hoses. Its design and size also mean that it is not only very quick to put up, but also to take down and move to another location or store away back in its box when not in use.
More Details
Ask a Question

×
If you have a question about this product, please use the area below, click 'SUBMIT' when you're done and we'll get back to you ASAP!


Product Detail
Intex Easy Set Pool 13ft diameter x 33 inches deep.

Intex's beautiful Easy Set Pools will ensure that you enjoy seasons of garden family fun! Intex have brought years of enjoyment to millions of people around the world. Their high quality, easy to assemble pools are the best value on the market today. A pool can be installed ready for filling with water within 10 minutes.

The Intex Easy Set Pool is manufactured using the highest quality PVC, and is several times stronger than the other makes available on the market due to the close-weave nylon webbing that is used for re-enforcement.

This 13ft pool comes with FREE:
Filter Pump
Installation guide DVD
Repair Patch

A variety of heating options are available from the simple to use 3KW Intex heater to the high quality Elecro stainless steel heaters. A cost-effective solar panel kit is also available. A filter pump will be required to run a heater with this pool.heaters. A cost-effective solar panel kit is also available.

Don't forget the chemical treatment kits and replacement cartridge filters, to extend the life of your pool water!

PLEASE NOTE: All filter pump units must be placed 2 metres away from the pool. We recommend that filtration is turned OFF when the pool is in operation. We recommend a smooth concrete slab as a suitable base- contact a reputable local builder for advice on local soil conditions. Failure to set up the pool on a flat, level compact ground could result in the pool's collapse or the possibility that a person lounging in the pool could be swept out. Do not lean, straddle or exert pressure on the inflatable top ring or top rim as injury or flooding could occur. Do not sit on, climb or straddle the sides of the pool.

WARRANTY: This product is covered by a manufacturer's warranty. The liner is covered for 3 months and the electrical components for 1 year. There is no warranty on inflatable parts or accessories. In the event of a product failure a claim can only be made through the relevant warranty line. Please note that the manufacturer will only replace the faulty component.






Product Specification
| | | | |
| --- | --- | --- | --- |
| Brand: | Intex Pools | Includes: | Pump |
| Box Length: | 415 mm | Box Height: | 571 mm |
| Box Width: | 282 mm | Code: | 28142UK |
| Pool Diameter: | 13ft | Pool Depth: | 33in |
| Shape: | Round | | |


People also bought


You May Also Like
Accessories
Alternatives
Have You Remembered


Reviews