Free 6-8 weeks delivery
Eco Octagonal Wooden Pool - 5.5m x 5.5m by Plastica

Size: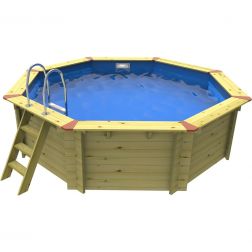 12ft 2in
18ft 1in
Top reasons to buy
NOTE: 8-10 WEEK LEAD TIME ON THIS POOL SO CALL US NOW TO RESERVE YOURS.

External size: 5,61m x 5,61m. Internal size: 5,5m x 5,5m. Depth:1,15m.

Plastica make low cost wooden pools, but there is nothing cheap to the feel of their construction, with high quality features to be found everywhere you look on this model. The Plastica Eco Octagonal Wooden Pool at 5,5m by 5,5m offers a very good sized space to swim in at an affordable price for a pool that can be used all year round. Its solid construction means that unlike an inflatable pool you won't have to take it down when winter sets in. The Eco range is new this year and offers an entry level wooden pool but with no sacrifices in quality at all.

More Details
Ask a Question

×
If you have a question about this product, please use the area below, click 'SUBMIT' when you're done and we'll get back to you ASAP!


Product Detail
There are many cheap wooden swimming pools available on the market today. But a wood pool is a significant investment and so you should be wary of deals that seem to be too good to be true! Our Eco Wooden Pool is produced by Plastica in East Sussex, the UK's leading wooden swimming pool manufacturer.
The Eco wooden pool range has been launched this year to give you an entry level wooden swimming pool without sacrificing component quality.
The Eco Wooden Pool is supplied complete with the following:
Redwood Wall Structure
Two Piece Softwood Top
Corner Cover Plates
Internal Stainless Ladder
External Softwood Ladder
Felt Underlay for Floor
0.375mm Plain Blue Liner (not tileband)
Skimmer and Return
380mm dia Sand Filter
6 Way Multiport Valve
0.33hp Pump
Flexible Pipe and Fittings
Installation Manual
The Eco wooden swimming pool is constructed using high quality 44mm thick redwood timbers that are sourced from Forestry Stewardship Council (FSC) approved forests. The timbers are high-pressure treated with a tanalith preservative unlike many other cheaper alternatives that are just dipped in a water based timber treatment.
The Eco wooden pool also uses use a high quality Onga pump and sand filter- equipment that is more commonly found with the far more expensive in-ground pools.
This pool is supplied with a 10 year timber guarantee; a 3 year warranty on the liner; and 1 year on the plumbing and electrical equipment.
The Eco wooden pool range consists of two octagonal sizes; a stretched octagonal; and a corner-shaped pool for the smaller graden. A size available to suit most requirements.
Each kit comes with everything necessary to build a complete functioning pool, except the concrete for the base, electrics and of course the water to fill it with!
A Pipework Extension Kit is also available for the addition of electric heaters or other plant room equipment.
A matching wooden pool enclosure is also available as an option for secure enclosing of the pool filtration, heating and other plant required for effective operation of your pool. Can be mounted against the pool wall or remotely.
Solar & winter covers are also options in a variety of quality grades.
Please note; if opting for the Solar Heating Kit, this pool will require five panels for optimum effect.
Support braces must be used when the stretched octagonal pool is built above ground, and preferably when built in-ground, although if the pool is properly excavated and back-filled with the correct grade of pea shingle this may not be necessary.
PLEASE NOTE: The pump and filter need to be located 3.5 metres away from the pool and must be connected to a suitable weatherproof RCD-protected socket outlet. We recommend that filtration is turned OFF when the pool is in operation. We recommend a smooth concrete slab as a suitable base- contact a reputable local builder for advice on local soil conditions. Failure to set up the pool on a flat, level compact ground could result in the pool's collapse or the possibility that a person lounging in the pool could be swept out. Do not lean, straddle or exert pressure on the inflatable top ring or top rim as injury or flooding could occur. Do not sit on, climb or straddle the sides of the pool.
There is a £200 delivery surcharge to Cornwall (PL, TR); Wales; Scotland; Northern Ireland; and LA, DL, TS, SR, DH, NE and CA postcodes.


Product Specification
Brand:

Plastica

Range:
Eco Pool
Includes:
Ladder
Pump

Code:
EWP103K
Pool Diameter:
18ft 1in
Pool Depth:
45in
Shape:
Round



People also bought


You May Also Like
Accessories
Alternatives
Have You Remembered


Reviews