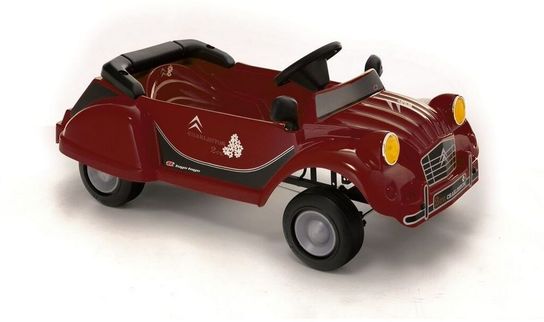 10
left in stock!
CHARLESTON 2CV Red Metallic Pedal Car
* We aim to deliver by our estimated delivery dates, however they can't be guaranteed.
Strong and durable plastic that can be polished
Pedal powered so no batteries required
Free Delivery!
Helpful Telephone Support
SSL Secured Transactions
Citroen Charleston 2CV Ride-On in red available as a pedal only. The weight of this car is 7kg The size is 95 x 54 x 33cm Some of the great features of this car are steel chassis, wing mirrors, sports steering wheel, tough bodywork, authentic real car badges and stickers and many more! Made in Italy under license and designed in conjunction with the manufacturer's engineers.
×
If you have a question about this product, please use the area below, click 'SUBMIT' when you're done and we'll get back to you ASAP!


Product Detail
For fans of this traditional French classic this is a fine replica and will delight children, their parents and grandparents


Product Specification


You May Also Like


Reviews
×
Limted time offer
Use code "SplashC1" to get 5% off* your basket.
This product will be .
* Discount only applies to first time customers. Code expires 31 Oct 2019.