Free 3-4 weeks delivery
New Camp Coin Operated Red & Blue Football Table
Top reasons to buy
Solid and elegant shape
Easy access to inside components
Tempered unbreakable glass
Bushing made in special plastic for utmost smoothness
Made by Roberto Sport
Free Delivery!
FREE HOME DELIVERY ON THIS ITEM. NORMAL DELIVERY LEAD TIME 2-4 WEEKS.
The New Camp Soccer Table is supplied with a coin mechanism as standard. Its body is a multi-layered 24mm thick poplar, covered by a plastic laminate. Made in two parts that can be opened by a double locker for easy access to the inside components.

90mm square anodized aluminium legs, for a solid and elegant shape; 5mm thick playing field in tempered glass; 18mm dia. double chromium coated rods with handles in extra soft rubber; optional external coin drawer and solid rods.

Overall dimensions: 110 x 135 x 90 cm. Weight: 75 kg.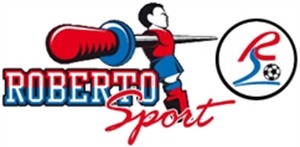 More Details
Ask a Question

×
If you have a question about this product, please use the area below, click 'SUBMIT' when you're done and we'll get back to you ASAP!