Free same day dispatch delivery
Hydro Pro Inverter ABS PIV25T/32 Swimming Pool Heat Pump- 25kW Three Phase
Phase: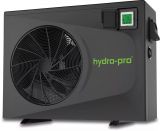 Single Phase
Three Phase
Top reasons to buy
Automatically adjust heating capacities to suit weather conditions
Works down to -5°C (23°F)
Titanium heat exchanger resistant to salt and chlorine
Soft start - no voltage peaks
Part of the Inverter ABS range by Hydro Pro
Free Delivery!
NEW 2021 SEASON STOCK NOW AVAILABLE.


The Hydro Pro Inverter Swimming Pool Heat Pumps offer the ability to vary the heating capacity to suit the weather conditions. Using the new automated Power/Smart/Silent modes, the compressor and fan speeds can be varied to reduce noise levels and energy use up to 50%.

Choose from a wide range of sizes:- 7kW; 11kW; 14kW; 16kW; 19kW; 24kW; and 29kW.

More Details
Ask a Question

×
If you have a question about this product, please use the area below, click 'SUBMIT' when you're done and we'll get back to you ASAP!


Product Detail
FEATURES:
All season model, three heating & one cooling mode
Inverter technology = 30% less noise & energy than standard Hydro Pro
Quiet running, anti vibration feet, corrosion resistant ABS case
50mm water connections
Reverse defrost cycle
Energy label: A
The heat pump Inverter provides the opportunity to automatically adjust heating capacities to suit weather conditions
By using Power/Smart/Silent modes you can reduce energy use
Efficient COP up to 13
"All seasons" model works down to -5°C
Easy digital temperature control with LCD display
All functions are microprocessor controlled
Quiet running with low noise rotary compressor & low noise variable speed fan
Soft start, no voltage peaks
R32/R410A gas for an environmentally friendly operation
Automatic defrost
Titanium heat exchanger resistant to salt and chlorine
Includes drain point and flow switch
Winter cover included
Wifi module optional
Two year parts & labour warranty, requires professional electrical connection

The Hydro-Pro Inverter sizing charts are based on the following criteria: the entire pool is in the ground; ground water level is below pool construction; average water depth is 1.3m; and a heat retention cover is used for 20 hours a day. If your pool is in a very exposed location or above ground then this will reduce temperatures.
Specification
Heating power input (max-min): 4.25-0.45kW
Heating capacity (A27/W27) (max-min): 25.5-5.9kW
Heating capacity (A15/W25) (max-min): 18.6-4.5kW
Maximum volume (good insulation): 75-130m³
Running current: 17.7-6.9A
Coefficient (C.O.P.) at A27/W27: 13-6
Coefficient (C.O.P.) at A15/W25: 7.2-4.6
Compressor: Inverter
Refrigerant: R32/R410a
Fan quantity: 2
Fan power input: 2 x 32-110W
Fan rotate speed: 2 x 550-850RPM
Fan direction: Horizontal
Noise level (10 metres): 46dB(A)
Water connection: 50mm
Nominal water flow: 8.0m/h³
Dimensions (L x W x H): 105 x 45 x 130cm
Unit shipping dimensions (L x W x H): 113 x 52 x 143cm
Net weight: 117kg
Shipping weight: 135kg
Minimum fuse: 27-10A

Warranty
For the first 2 years both parts and labour are warranted on site. Call out and parts charges will need to be paid by you if found to be a problem with setup and not a faulty item. Units cannot be returned for a refund; only swapped if the manufacturer advises that the item is not repairable.

Above Ground Pool Sizing (guideline only, based on 4 ft depth)
| | | | |
| --- | --- | --- | --- |
| Pool Size | Gallons | Litres | Model |
| 10' Diameter | 1000 | 3,800 | Hydro Pro 5 |
| 12' Diameter | 1800 | 6,700 | Hydro Pro Inverter 7 |
| 15' Diameter | 4400 | 20,000 | Hydro Pro Inverter 11 |
| 18' Diameter | 6350 | 29,000 | Hydro Pro Inverter 14 |
| 19' x 12' | 4900 | 23,000 | Hydro Pro Inverter 11 |
| 23' x 12' | 5700 | 26,000 | Hydro Pro Inverter 14 |


Product Specification
| | | | |
| --- | --- | --- | --- |
| Brand: | Hydro Pro | Range: | Inverter ABS |
| Box Length: | 120 mm | Box Height: | 495 mm |
| Box Width: | 1300 mm | Code: | 7028289 |
| Heating Output: | 25 kW | Phase: | Three Phase |


People also bought


You May Also Like


Reviews