Free 1-2 weeks delivery
Vulcan Analogue Electric 6kW Single Phase Pool Heater by Elecro
Phase:
Single Phase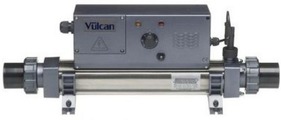 Three Phase
Top reasons to buy
×
If you have a question about this product, please use the area below, click 'SUBMIT' when you're done and we'll get back to you ASAP!


Product Detail
Elecro Electric Heaters come fully equipped and pre-wired including a super sensitive reversible flow switch which allows safe coupling to most pools including wooden pools and Intex style above ground pools. They also include a control thermostat, safety thermostat and an integral contactor relay.
These heaters now feature titanium elements as standard, making them suitable for saltwater pools.
These heaters are very easy to install, requiring only a final connection to a mandatory separate RCD. No pump interlock is required.
The heaters up to 6kW will require a pump with a minimum flow rate of 1000 litres per hour. 9kw and above require 4000 litres per hour.
The 2 to 9kW heaters come fitted with 1.5" BSP female threaded adapters and 1.5" to 1.25" hose tails. 12 to 18kW heaters are also supplied with the above hose tails and 1.5" socket unions.
These heaters come with a 2 year warranty, and 3 years if fitted by a professional pool engineer.
Power requirements from a 230 volt supply are as follows:-
2kW- 9amps; 3kW- 13 amp; 4.5kW- 20 amp; 6kW- 27 amp; 9kW- 40 amp; 12kW- 53 amp; 15kW- 66 amp; 18kW- 79 amp.

Three phase power requirements from a 400 volt supply are:-

9kW- 13 amp; 12kW- 18 amp; 15kW- 22 amp; 18kW- 26 amp; 24kW- 36 amp
What Size Swimming Pool Heater Do I Need?
Above Ground Pools
| | | |
| --- | --- | --- |
| Pool Dimension (feet) | Volume When Filled to 6'' Below Top Rim | Minimum Recommended Heater Size |
| Round Pools - Diameter | UK Gallons / (Litres) | kW - Kilo Watts |
| 12' x 3' | 1761-gal / (7994-ltr) | 4.5-kW |
| 15' x 3' | 2752-gal / (12494-ltr) | 6-kW |
| 15' x 4' | 3854-gal / (17492-ltr) | 9-kW |
| 18' x 4' | 5548-gal / (25187-ltr) | 9-kW |
| Oval Pools L x W x D | UK Gallons / (Litres) | kW - Kilo Watts |
| 16' x 10' x 3' | 2157-gal / (9792-ltr) | 4.5-kW |
| 24' x 12' x 4' | 5605-gal / (25446-ltr) | 9-kW |
| 30' x 15' x 4' | 9592-gal / (43547-ltr) | 15-kW |
For information about how the above figures are calculated please download our latest Technical Bulletin (84K)
In Ground Pools
| | | |
| --- | --- | --- |
| Pool Dimension (feet) | Volume When Filled to 6'' Below Top Rim | Minimum Recommended Heater Size |
| Dimension L x W x D | UK Gallons / (Litres) | kW - Kilo Watts |
| 20' x 10' x 4.5' | 4983-gal / (22620-ltr) | 9-kW |
| 24' x 12' x 4.5' | 7175-gal / (32573-ltr) | 12-kW |
| 30' x 15' x 4.5' | 11211-gal / (50895-ltr) | 18-kW |



Product Specification
| | | | |
| --- | --- | --- | --- |
| Brand: | Elecro | Range: | Vulcan |
| Box Length: | 100 mm | Box Height: | 450 mm |
| Box Width: | 250 mm | Code: | V-8T86 |
| Heating Output: | 6 kW | Phase: | Single Phase |


People also bought


Reviews